With Mother's Day right around the corner, we've been thinking about what would make the best gift for the special mom in your life. What better way to show your appreciation than by giving her one of the home renovation projects of her dreams? Whether you want to surprise your loving wife or give your mom an extraordinary gift, these must-have luxury updates will certainly make her extra happy this Mother's Day and for years to come.
Bathroom Oasis Retreat
What mom wouldn't want a bathroom that doubles as her own personal spa? Treat her to her own private sanctuary that she can retreat to after a long day. What makes up this perfect lush getaway? It's all in the details. An elegant freestanding tub provides the perfect escape for melting the stress away. A double vanity crafted with a natural material such as marble or limestone offers an abundance of counter space and storage. High-tech amenities such as LED lighting, Bluetooth speakers, in-floor heating and dimmer switches allow her to control the ambiance and create an atmosphere of true luxury. Add in amenities like a steam room or sauna, and mom will feel like she's been whisked away to her favorite resort.
Spacious Master Closet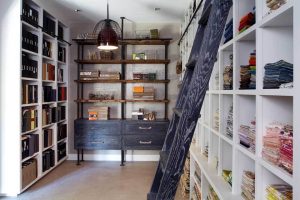 Today, closets themselves are often a personal oasis. In addition to larger spaces with more custom built-ins and functional storage features, many of them have a lounging area or spectacular statement pieces. One of the most popular statement pieces is a multifunction island, with an abundance of drawers, cabinets or even a retractable television. Larger room-sized closets have become functional living spaces rather than simply storage, so great mirrors and quality lighting are paramount. Strategically placed shelf and floor illumination makes it easier to find the perfect ensemble and can help mom to look and feel her best every day.
All-Purpose Kitchen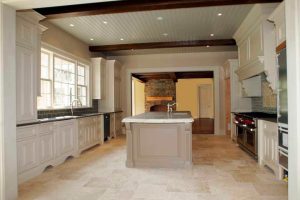 To design the perfect kitchen for the culinary mom, focus on two elements – style and function. Beautiful new cabinets meticulously hand-crafted in our custom millwork shop can maximize space and make a dull, dated kitchen come to life. The addition of a multi-purpose island is an easy way of incorporating both the latest technology and design elements. A custom island can provide the opportunity to add game-changers like an extra sink, more counter space, warming drawers, a wine refrigerator or more seating. Custom cabinets and islands are also a great way of introducing complementary stone, tile or wood accents. Updating high visibility items like refrigerators, stoves, ovens and dishwashers with all the latest technology improves functionality and aesthetics. Bringing high-end appliances in line with current trends can not only increase the value of a home but can also decrease energy costs, making a kitchen remodel both a great gift and a great investment.
Her Own Personal She-Shed
Give mom a magnificent room all to herself. A "she-shed", the female-friendly version of the "man-cave" is mom's private getaway to pursue her passions. She-sheds can take many forms – a meditation room, art studio, writing space or simply a place to read and relax away from the chaos of family life. Outfit this space with creature comforts like a terrific sound system, beautiful windows and skylights, a wet bar, a custom-crafted table or desk, and mom's favorite furnishings, and we guarantee this room will be her go-to place to decompress.
The End of the Honey-Do List
If now isn't the right time for one of these home renovation projects for mom – we can still help to make her life easier with the gift of our home management – the perfect combination of maintenance and concierge services for high-end luxury homeowners. With quarterly, monthly and weekly service options, our team can make sure that mom (and dad) can spend time enjoying their home, not taking care of it.
This Mother's Day, or any day, let us help you surprise and delight mom by making her life easier with Dibico's comprehensive services for luxury homeowners. Contact us now to arrange a visit from one of our Dibico experts.