When designing a custom home, it's common to focus on the bigger features and forget about the importance of smaller, yet essential components that impact the overall functionality of the home. Yes, we're talking storage! Ensuring that you have adequate storage space is crucial when creating a luxury home. We're kicking off a series of blog posts on storage solutions that will optimize and organize your space, starting in the kitchen! We've gathered some of our favorite must-have kitchen storage solutions that reduce clutter, protect your perishables and make the kitchen an even happier place to be.
Deluxe Oversized Pantry
A spacious pantry will help you stay organized in your day-to-day life and will be especially helpful when hosting large parties and gatherings! The ample shelving, with under-shelf lighting, allows for maximum organization and visibility with space for clearly labeled and arranged storage bins and dividers.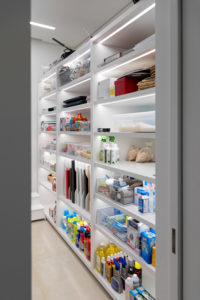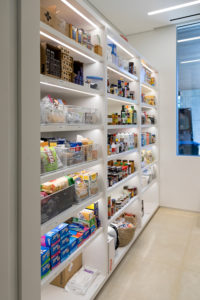 Hidden Spaces
A hot new luxury trend right now is the incorporation of hidden spaces into a home's design. Sleek partitions and doors serve a functional purpose while also giving the room a refined look. Hidden spaces offer versatility, allowing you the choice between easy access and an open layout or keeping kitchen storage areas hidden when you plan to entertain guests.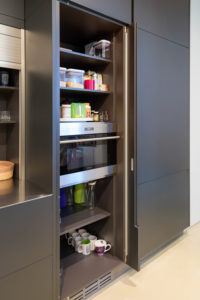 Refrigerated Cabinets
There's more than one way to store refrigerated items. Blend refrigerated cabinets into your kitchen's design to offer more conveniently placed storage for your food, such as fruit and veggies next to the cutting board or milk and creamer beneath the coffee pot. These innovative cabinets make your life easier and more organized!
Multi-Purpose Kitchen Island
An island serves as a centerpiece for the kitchen — a place where the family can gather round in wait for Sunday breakfast. It also offers endless benefits – whether it's more counter space, cabinets to place decorations on or extra storage, an island heightens the functionality of your kitchen.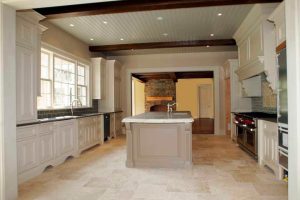 Getting organized is one of the best things you can do to optimize your home. Let us help you create calm from chaos. Whether it's a simple pantry expansion or a brand new Michelin-worthy kitchen, we can do it all. Contact us to learn more!